I'm sharing some artwork from my school and college years. See all the posts here.
Leaving school the first week I was legally allowed to was probably my first step on to my current freelance entrepreneurial path. I studied at Moray College in Elgin for the next two years and, looking at my National Record of Achievement, all I came out with is Highers in Art, English and Biology, an A level in Art and a bunch of modules in drawing, photography and physics. It's nice that I already knew exactly what I wanted to be doing, but I am so uneducated for having a university degree – it's lucky I read a lot.
Anyway, the box of eggs there was one of my application drawings – I seem to remember I had to draw a spoon as well. What they don't tell you about studying art is that 90% of your time is spent drawing horribly difficult and ridiculously boring things in order to learn perspective, tones etc. Want to see?
A pile of plastic tubs!
A pile of cardboard boxes!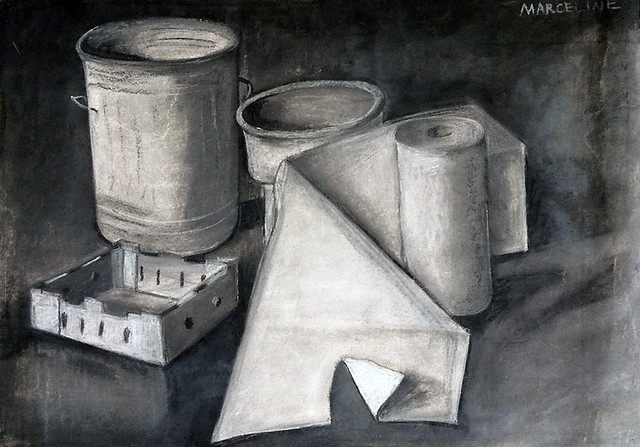 A roll of paper, a bin and some more boxes and tubs!
A circuit board! We had to do a painting of this too.
A pile of transparent coloured balloons! So evil.
There were tons more of these too, including a pile of patterned fabric, loads of still life paintings of random junk and many pastel drawings of a very reflective saxophone. Ugh.
My college stuff isn't dated unfortunately, so I'm just splitting these posts up by subject. More next week.